The Club Managers Association of America (CMAA) hosted their 86th Club Business Expo and World Conference in San Diego at the Marriott Marquis & Marina from February 7 -11, 2013.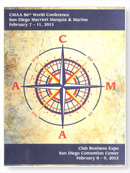 COMD Partners Daniel Condon and James Hankowski will be leading a panel entitled "The Top 25 Things that Every Well-Run Club Should Have." The panel is geared towards club leadership.
As a result of participating in the program, participants will be able to identify "must-have policies", provide effective tools for their clubs' board members, and identify their clubs' areas for improvement.